GMO Health News
Good news from Vermont – In a 26-2 vote  for a bill that would require labeling of foods that contain genetically modified ingredients, a strong indication that Vermont could become the first state in the nation to enact such a law.
"We are saying people have a right to know what's in their food," said Senate President Pro Tempore John Campbell, D-Windsor.
More Here
Is it time to reject GMO?  China has and it's costing US agriculture dearly…
GMO Health News – China's rejections of a banned variety of genetically modified U.S. corn have cost the U.S. agriculture industry up to $2.9 billion, a grain group said on Wednesday in the first estimate on losses from the trade disruptions.
The National Grain and Feed Association (NGFA) estimated in a report that rejections of shipments containing Syngenta AG's Agrisure Viptera corn resulted in losses of at least $1 billion, based on an economic analysis that included data supplied by top global grain exporters.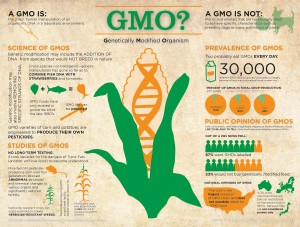 What are GMOs?
GMOs, or "genetically modified organisms," are plants or animals that have been genetically engineered with DNA from bacteria, viruses or other plants and animals. These experimental combinations of genes from different species cannot occur in nature or in traditional crossbreeding.
Virtually all commercial GMOs are engineered to withstand direct application of herbicide and/or to produce an insecticide. Despite biotech industry promises, none of the GMO traits currently on the market offer increased yield, drought tolerance, enhanced nutrition, or any other consumer benefit.
Meanwhile, a growing body of evidence connects GMOs with health problems, environmental damage and violation of farmers' and consumers' rights.
Are GMOs safe?
Most developed nations do not consider GMOs to be safe. In more than 60 countries around the world, including Australia, Japan, and all of the countries in the European Union, there are significant restrictions or outright bans on the production and sale of GMOs. In the U.S., the government has approved GMOs based on studies conducted by the same corporations that created them and profit from their sale. Increasingly, Americans are taking matters into their own hands and choosing to opt out of the GMO experiment.
More here.