Grass Fed Beef Jerky Recipe for Healthy Snacks
Making your own homemade grass fed beef jerky can be fun and healthy. A lot of people around the Kansas City area has asked me about making grass fed beef jerky.  My reply: it's easy when you start with a good product and have the right tools.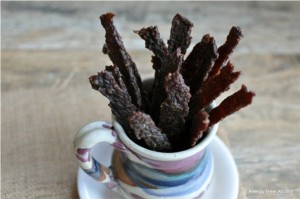 Medium quality steaks are my favorite meats to make jerky with, but it that gets pretty expensive and I would prefer to grill the steaks anyway.
What works well is when you order a 1/4 or 1/2 grass fed beef and make the jerky from the ground beef.  When you consider that beef jerky in the supermarket can cost over $25 per pound and by the time you add up the supermarket costs of steaks, roasts and burger, buying in bulk makes an excellent investment in terms of cost, taste and nutrition.
Use some of the lean grass fed ground beef you get when buying bulk for jerky. After you factor in  the beef broth, sea salt, and seasonings, you can fill a gallon-size bag about 3/4 of the way full with jerky using this recipe for about $13. That's a lot of jerky for cheap, cheap, cheap!!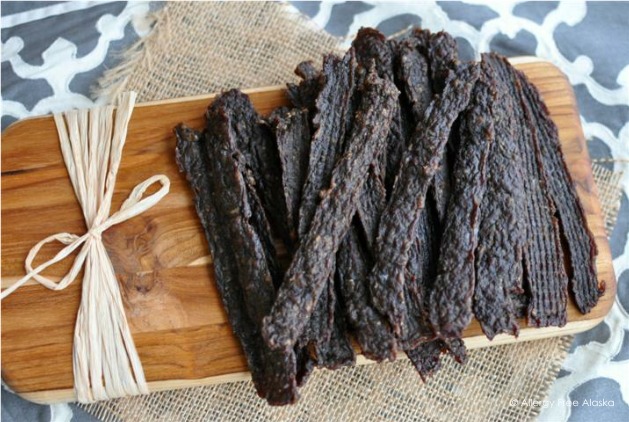 A   liquid mixture of beef broth, molasses, and liquid smoke creates a grass fed beef jerky strip that is  bursting with flavor!
I found this recipe at Allergy Free Alaska and it's great:
Ingredients
3 pounds grass fed ground beef (use 90% lean meat/10% fat or leaner)
5 teaspoons garlic powder
4 teaspoons onion powder
3-4 teaspoons sea salt (we prefer 4 teaspoons)
2 teaspoons ground black pepper
1 1/4 cup beef broth
1 tablespoon 

Hickory Liquid Smoke

2 teaspoons 

unsulphured molasses
Instructions
Place the ground beef, garlic powder, onion powder, sea salt, and ground black pepper in a large mixing bowl.
Stir together the beef broth, liquid smoke, and molasses, and then pour it into the mixing bowl with the ground beef. Stir until well combined.
Cover and marinate for at least 3 hours in the refrigerator.
Form the meat into strips, about 1/8-1/4" thick, using a jerky gun or by using your hands or a rolling pin to flatten the meat into strips or whatever shape you desire.
Dehydrate in a dehydrator at 145 degrees (F) for 6-12 hours.
Place the jerky strips on paper towels to cool and to absorb any excess fat.
Consume within 24-48 hours at room temperature, or store in the refrigerator in an air tight container for up to 7 days. For long-term storage, freeze in an air tight container and consume within 3-4 months.
Recipe Notes
The flavor of this grass fed beef jerky recipe is most comparable to an "original" recipe type of jerky, although not as sweet.
You could easily substitute bison or ground turkey breast for the lean ground beef. You will need some tools to make the jerky.  We use and recommend the exact products listed below.
I use the Excalibur 3926TB 9-Tray Dehydrator and love it.  It seems to dry evenly and is very efficient.
Jerky Gun –
http://www.amazon.com/LEM-468-Products-Jerky-Cannon/dp/B000SQFGRS/ref=sr_1_3?ie=UTF8&qid=1405454898&sr=8-3&keywords=jerky+gun
Dehydrator
http://www.amazon.com/Excalibur-3526TB-Dehydrator-Timer-Black/dp/B008OKI8GG/ref=sr_1_5?s=home-garden&ie=UTF8&qid=1405455005&sr=1-5&keywords=excalibur+dehydrator
Spices
http://www.amazon.com/Nesco-BJV-25-Jerky-Spice-Variety/dp/B00499DF4G/ref=sr_1_5?ie=UTF8&qid=1405455051&sr=8-5&keywords=jerky+spices