This article, Aberdeen Angus Benefits is for those considering adding Aberdeen Angus genetics to their herd.
Lowline Benefits
The quality of Aberdeen (formerly Lowline Angus)  and Aberdeen cross meat has been increasingly recognized within the beef industry. Aberdeen Angus benefits include having the genetic ability to reduce late maturity patterns, increase fat cover and marbling while achieving competitive 200 and 400 day weights and high yielding carcasses. Research has concluded that Aberdeen's have:
5% more marbling than other breeds
30% larger rib eye per 100lbs. of body weight
Half the back fat of traditional Angus
Produce more pounds of retail product per acre than other breeds
Crossing a Aberdeen bull with a traditional Angus just one time will provide you with a 50% Lowline that averages:
15% larger rib eye per 100lbs. of body weight
25% less back fat
22 more retail pounds per acre
15% reduced cost and waste
Aberdeens Lowlines calf easily. Increasing numbers of Aberdeen bulls  are being sold to large scale commercial beef breeders for use with first time calving heifers to reduce calving difficulties. In dairy regions, Lowline bulls are being used to reduce calving difficulties with young cows.
This smaller size and their docile nature make then easy to handle and enable the use of lighter equipment and smaller yards. Aberdeen are especially good for children to learn and practice cattle handling techniques.
*Much of the above information was taken from the Cheyenne Outlaw brochure.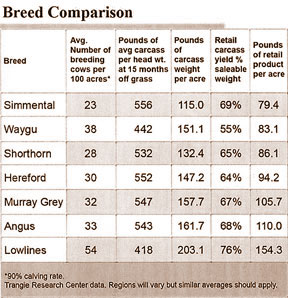 "Industry-wide, cow size has increased by more than 27% over the past 28 years while the tons of hay being fed has risen 154%. Industry-wide, production per cow is up about 22%, but hay consumption per cow has risen more than 50%. The cost of that hay has risen dramatically with increased energy costs. Hay use has risen at a faster rate than production per cow because in low cost production models, hay is supposed to be only a supplement to the cows main diet, grass.
Aberdeen (Lowline) Angus Profitability in Commercial Herds
Here is how it works in commercial herds. Use a Aberdeen full-blood, purebred or percentage bull only on your first heifer calves. Each time you cull one big old cow, replace it with two Aberdeen Heifers. Instead of throwing your whole herd away and starting over, make this change as painless as possible over the next few years. Scrutinize your commercial cow herd and cull ruthlessly while simultaneously bringing your cow size down and concurrently your maintenance costs down dramatically."
-Quoted material from Neil Effertz in the Summer 2008 Lowline Ledger
Helpful Links:
http://www.usa-lowline.org/article-a-diamond-in-the-rough.html