"Sustainable Nutrition"
Kansas City Grass Fed Beef
Hormone, Antibiotic and Steroid free!
All of our beef is raised on our farm and other local farms within a short driving distance from Kansas City.   All are subject to quality standards: they all graze freely throughout their lives, eating the all-grass diet nature intended, to become robust and healthy. Kansas City Grass Fed Beef contains no hormones, no antibiotics, and no systemic insecticides.
Call 816-560-1858 Today to Reserve a side for Fall 2017
Contact us now to buy pure natural grass feed beef.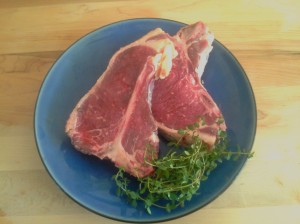 Click here for recommendations on the best way to prepare your grass fed beef.
Testimonial
"…what we did notice immediately was the meat seemed to have more tender and flavor characteristics. I know that am I no grading expert, but even though marbling is the predominant grading factor, and grass-feed beef is leaner than grain-finished, the steaks would easily have graded choice with respect to tenderness and flavor. "
J. Templeton – Leavenworth Kansas – August 2014
What Mr. Templeton is referring to is the "clean" taste and "fine" texture of our beef.  We harvest when the the cattle have been feeding on the tallest and most nutritious grasses.  This imparts a deeper, beefy, and earthier flavor.  It tastes clean, nutritious and is flavor enhanced by  dry-aging.  Supermarket beef is among other things, wet-aged.

Click here for more testimonials
Organic?
Organic does not mean grass fed.  Cattle with USDA Organic label can and, in many cases, are fed grain.
The Organic label is costly and at our current stage of production we simply can't afford it.  However, organic agriculture is born from the idea that a healthy environment significantly benefits crops and the health of those consuming them.  At Full Sircle Farms, we practice organic techniques. We are trained ZERI practitioners and skilled horticulturalists. 
Questions About Kansas City Grass Fed Beef?
Click here for frequently asked questions and answers about pricing, freezer space, processing and safety.